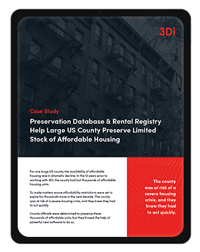 In this case study, we'll share the story of how officials in one large U.S. county took action to save thousands of affordable housing units—and the powerful software that made it possible.


Learn how officials were able to flag more at-risk units by viewing all properties at the parcel level through an intuitive map interface.
Discover why a consolidated preservation database makes it easier to collect, store, and communicate important information across agencies.
See why the additional insight that a rental registry provided was key to avoiding a housing crisis.